Roman Polański. Actor. Director
in Michel Blanc's film
Dead Tired
, in Brett Ratner's
Rush Hour 3
and in Antonio Luigi Grimaldi's
Quiet Chaos(2008)
. The last Polish film in which he has appeared is
Revenge
by Andrzej Wajda where he played the unforgettable role of Papkin,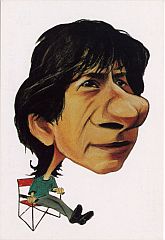 in which his acting was a notable success. Additionally, in this part of the exhibition, viewers will be able to view a multimedia presentation of selected film character roles played by Roman Polański. Apart from photographs the exhibition will include a unique collection of film posters from the outstanding collection compiled by the Museum of Cinematography in Łódź. This consists of over 190 posters from all over the world: from the USA, Japan, Mexico, Argentina, Turkey, Russia, Hungary, France and Germany. These underline the popularity of both the Polish director and of his films in other parts of the world. The authors of the posters are such great poster artists as Rosław Szaybo, Wiesław Wałkuski and Jan Lenica.
The exhibition is accompanied by a Polish-English publication compiled by Barbara Kurowska, containing comments made by those who have worked with Roman Polański, and with whom Roman Polański has worked as an actor: Gene Gutowski, Amy Sheppard, Jerzy Skolimowski, Allan Starski, Waldemar Pokromski, Andrzej Kostenko, Andrzej Wajda and Janusz Morgenstern. There are also recollections of the director's friends: Leopold Rene Nowak, Ryszard Horowitz and Wojciech Fibak.
The aim of the exhibition is to present Roman Polański as an outstanding world film-maker, and also a great personality who has at times provoked controversial reactions. He is one of the most fascinating film artists of our times. In the words of his co-film makers, he is genial, charismatic, eccentric, impulsive and non-compromising.